EMGG places Top 16 in Kansas City HCS
by Garret Brown | May 03, 2022
This year continues to be a year of firsts for EasternMediaGG (EMGG) as it showcased its talent at the Halo Championship Series (HSC) Major Kansas City 2022.

In late April 2022, Esports Arena Blue disbanded its own championship caliber team consisting of Diagram, Flurriously, GoldStarBR , and JkVii. They had consistently achieved top 12 results for their team to that point. Things were looking dismal despite their stellar performance to that point.
Not Representing ESA Blue at HCS Kansas City

Read: https://t.co/NH0uxZP2Ij

— Ivan Ortega-Nguyen (@Flurriously) April 22, 2022

They didn't have to worry long as EMGG, along with EU's Spartan and KCP's Taulek, swept in and secured their services along with new coach Hedgehog. Within two weeks they were ready and able to step on the stage and show what they had in them at the Kansas City Major.

EMGG entered the Open Bracket on Saturday making fast work of Hyped Esports, and Luminosity Gaming until they suffered their first loss against Complexity Gaming (2-1).

They entered the Losers Bracket and quickly redeemed themselves by sweeping Priority Zero and Version1 finally securing an Elimination Bracket spot by defeating BLVK.NA and moving on to Saturday.

Emotions were high and EMGG's fanbase was eager for more as the team was pitted against Australia's #1 ranked team, Chief's Esports Club. It was a tense back and forth until EMGG won out 3-1. The excitement continued into the night with EMGG once again defeating the Built by Gamers organization 3-1. This nabbed them a much a coveted Top 16 position and the opportunity to show off their skills on Championship Sunday!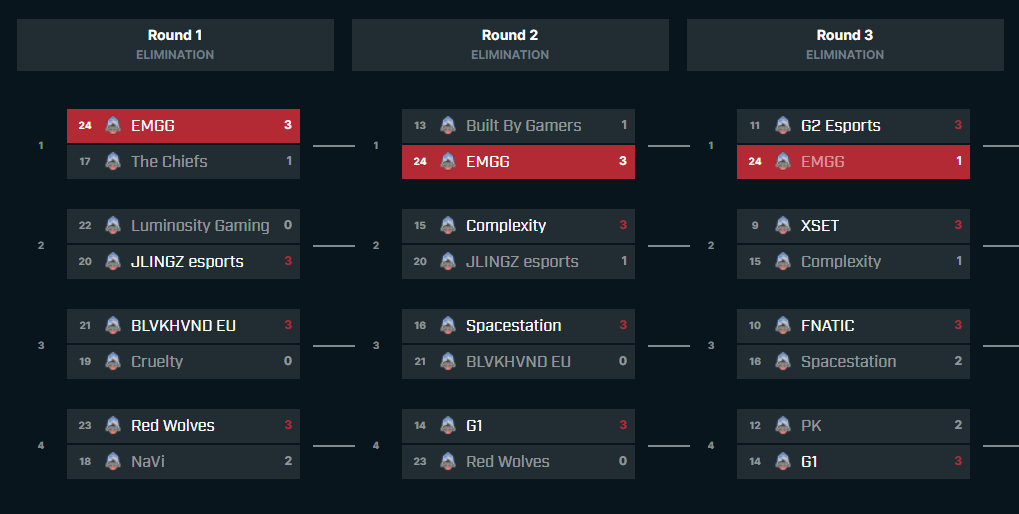 Sadly, EMGG's run was cut short early the next day in an unstreamed matchup with G2 Esports, 1-3. G2 Esports is a highly respected team that has consistently placed Top 12 in nearly twenty tournaments since it was formed in November, 2021.1

It was a bittersweet morning as EMGG's CEO and owner, Zimm cued up the Halo watch party to share the experience with their fans. We are saddened to see them fall, but optimistic that this is the right squad for the job. Keep up the good work. We're proud to have you here!

The HCS Major Kansas City 2022 was eventually won by the Sentinels after they went 4-0 against Cloud9 in Grand Finals.
Return to News